By Jorge Casuso
February 26, 2018 -- Pouring a bowl of cereal may seem an easy task, but in the convoluted mechanical world of cartoonist Rube Goldberg, it could take more than two dozen insanely complex steps.
On Sunday March 4 students of the STEAM disciplines (Science, Technology, Engineering, Arts and Mathematics) will take up the challenge during the LA Regional Rube Goldberg Machine Contest at the Santa Monica Pier.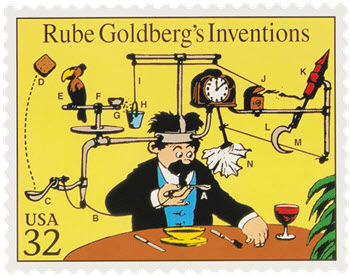 Rube Goldberg commemorative stamp
The 6th annual event is designed "to inspire the next generation of tinkerers, innovators and science leaders," event organizers said.
"This live action contest will be judged by some of the region's best and brightest in the science and technology community," organizers said.
Master of Ceremonies Gray Bright -- "engineer by day, comedic talk show host by night" -- will provide a play-by-play commentary and moderate an afternoon panel of innovators from 2 to 3:30 p.m.
The winners in both age groups will move on to the contest's National Finals.
The STEAM Machines Expo will take place from 11:30 a.m. to 4:30 p.m. on the Pier East Deck.
The day includes interactive booths showcasing "everything from visual reality technology, robotics, turn-trash-into-art stations, and delicious ice cream -- custom made with liquid nitrogen," according to organizers
Below the Pier at beach level, Heal the Bay's Santa Monica Pier Aquarium will offer visitors a chance to "tinker with robotics and circuitry, and experience cutting edge technology applied to under-the-sea exploration," aquarium officials said.
The aquarium 1600 Ocean Front Walk will be open from 1:30 a.m. to 5 p.m. A shark feeding and live presentation will take place at 3:30 p.m.
Admission: STEAM events on the Pier deck: FREE ; Aquarium admission: Free for children 12 and under; all others: $5 per person.