By Lookout Staff
February 22, 2018 -- An imagined art school in the middle of the Amazon and the notion of home and place are among the concepts explored in an exhibition of work by two Latina artists at Santa Monica's 18th Street Arts Center.
The opening reception for Los Angeles-based artists Mariángeles Soto-Díaz and Carmen Argote will take place Saturday from 6 to 8 p.m. at the Arts Center, 1639 18th Street.
Soto-Díaz's "Instituto Experimental Tropical del Amazonas" in the Atrium Gallery is an installation of new work by the Venezualn-born artist.

The installation comprises "a series of documents, posters and mixed media work from an imagined experimental art school that operated in the Amazon jungle between 1935 and 1942," event organizers said.
Argote, a multidisciplinary artist born in Mexico, uses installations to "explore notions of home and place, interacting with architecture to reflect on personal histories and my own immigrant experience," she said in a statement.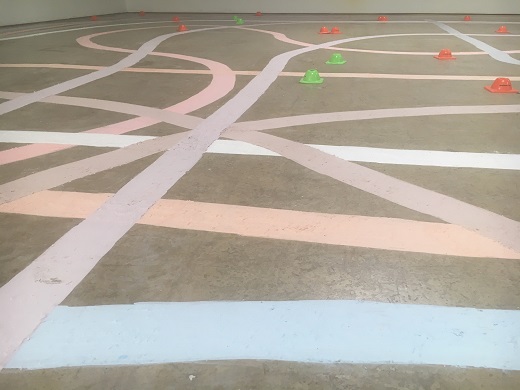 Carmen Argote
Her exhibition in 18th Street Arts Center's Main Gallery "explores artistic flow, risk-taking, community-building, and father-daughter relationships through the process of learning to ride a motorcycle," organizers said.
The exhibit comes in the wake of Argote's performance in Griffith Park in January as part of the Pacific Standard Time Festival.
Danish visiting artists Silas Inoue & Kirstine Aarkrog and Jesper Dyrehauge will open their studios during the reception.
Inoue's work "deals with scientific inquiry and employs unexpected materials," while Aarkrog "manifests site-specific interventions exploring phenomena related to time and the body."
Dyrehauge "expands the formal and material properties of painting," organizers said.