By Jorge Casuso
February 22, 2018 -- TripAdvisor, the largest travel site in the world, has named Santa Monica Beach one of the country's top ten beaches based on its user reviews.
The annual Travelers' Choice awards, which were announced on Wednesday, placed Santa Monica Beach ninth on its list of 25 top beaches, making it the only beach outside of Florida and Hawaii to make the top ten.
The list is based on the number and quality of reviews posted by the site's users.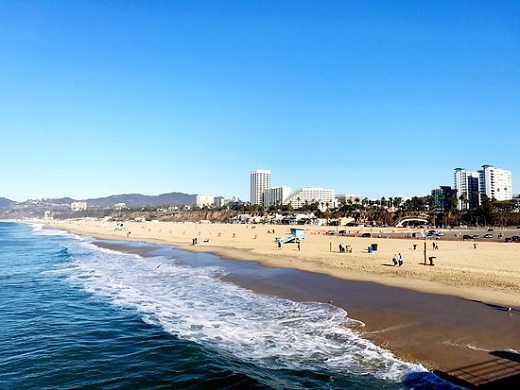 Santa Monica Beach (Courtesy TripAdvisor)
Santa Monica Beach -- which the site defines as the area around the Pier -- averaged 4.5 out of a maximum 5 points, with 1,940 excellent reviews and 2,247 very good reviews.
"Great place to watch the sunset + plenty of parking available at low rates + clean bathrooms + well maintained broad walks + plenty of police presence so it feels safe," wrote one traveler.
"This is the beach that's quintessential California!" wrote another. "Just go and put up with the traffic. It's where the beach surfers hang out and is laid back California!"
"Growing up in the '70's, I had a vision of what a beach is supposed to be like," wrote another traveler. "Lots of people, lots of white sand, amusement rides, ice cream, board walk, shopping and big waves. Santa Monica beach did not disappoint!"
But others were bothered by the large crowds and the homeless individuals who frequent the beach, resulting in 389 average reviews, 59 poor and 33 terrible reviews.
"Was so glad to see the water and walk on the beach but seeing all the homeless people and druggies was sad," wrote one traveler who gave the beach an average review. "Certainly detracted from what we expected to be a nice outing."
"Smells likes piss and surrounded by panhandlers," wrote another. "Tourist trap almost by definition, travel away from the city."
Florida Beaches were clustered near the top of the list, with six of the top ten beaches located in the Sunshine State, followed by Hawaii with three.
Florida's Clearwater Beach topped the U.S. list and placed eighth among world beaches.
Other California beaches that made the top 25 U.S. beaches were Manhattan Beach (19), Pacific Beach in San Diego (20) and La Jolla Shores Park in La Jolla.
Half way around the world, another Santa Monica Beach -- this one in Boa Vista, Cape Verde -- ranked 17th on the list of top 25 wolrd beaches.
Grace Bay in Providenciales, Turks and Caicos was named the world's top beach.
TripAvisoe has posted more than 600 million reviews and opinions covering approximately 7.5 million accommodations, airlines, attractions, and restaurants, according to the company's site.